Lauren Deschamps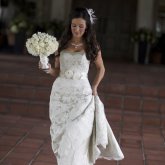 I absolutely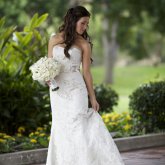 loved my dress from M Bride! It was comfortable and it fit me perfectly. My husband loved the dress when he saw me and I love how it looked in all our pictures. During my dress search I found that M Bride had the best selection of designer dresses and they were so helpful and wonderful to work with. Also, I got my jewelry and accessories through M Bride so it was a one stop shop! Thanks so much Michele!
Photography by John Riedy
Brittany Parker
I could not have had a better experience wedding dress shopping than I did at M Bride. I was so impressed with both Michelle and Angie's creativity, relationships with the designers and ability to know what dress styles fit my shape the best.
I was fortunate to visit M Bride when they were having a trunk show with Ines Di Santo dresses and I got to meet Veronica, Ines' daughter. I tried on several dresses and I had narrowed it down to two. With Michelle and Veronica's help, I was able to customize everything I liked about both dresses into one dress and the end result was my "perfect wedding dress". Thank you for making me feel so pretty on my wedding day!